From door knocks and worksite visits in Georgia to a Boston phone bank that drew the commander in chief, IBEW members pulled out the stops to turn out union voters in the U.S. Senate runoff election Dec. 6.
Their pivotal role in labor's campaign to reelect Sen. Raphael Warnock helped ensure that Georgia workers would continue to be represented by a steadfast friend and fortified a slender pro-worker Senate majority for all Americans.
"All the hard work really paid off," Atlanta Local 613 Business Manager Kenny Mullins said. "Every day in our union hall, you could feel the energy and excitement."
That was true up north as well, where members of Boston Local 103 packed into their union hall to call IBEW brothers and sisters in Georgia the Friday before the runoff — a get-out-the-vote phone bank launched with a special pep talk.
"What you're doing here makes a gigantic difference," President Joe Biden told some 150 volunteers after joking about how their Boston accents would be received at the other end of the line.
Local 103 Business Manager Lou Antonellis laughed about it, too. "Worlds were definitely colliding on the phone, North and South and the accents and everything that goes with it," he said the day after Warnock's victory.
Biden made several calls himself, choosing from a list of names that Mullins provided. "One of my members, a journeyman in 613, called me afterward and told me how much he appreciated it — that it was a once-in-a-lifetime opportunity," he said.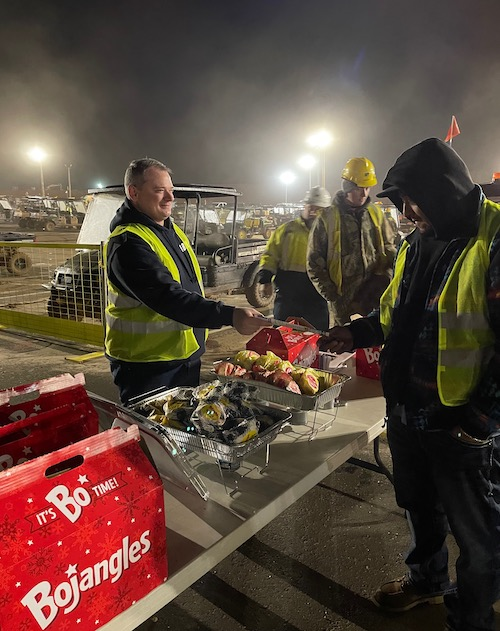 The four-week campaign began immediately after the Nov. 8 midterm election. Warnock led opponent Herschel Walker, but neither topped 50% of the vote, spurring a runoff under Georgia law.
The AFL-CIO was ready with a Georgia-centric game plan, refining the massive operation it rolled out in late 2020 when both of the state's U.S. Senate races went to runoffs.
With labor's wind at their backs, Warnock and Jon Ossoff bucked the odds and beat the anti-worker incumbents that year. Ossoff was elected to a full six years, while Warnock won an unexpired seat with two years to go, putting it back on the ballot in 2022.
The senators' twin victories on Jan. 5, 2021, gave Democrats and Republicans 50 seats each, a split that favors the party in the White House but with limited power. That didn't stop Democrats from plowing forward with life-changing legislation, some of it passing by the narrowest of margins with Vice President Kamala Harris's tie-breaking vote.
Warnock's 2022 win puts Senate Democrats fully in control as of January, even with Arizona Sen. Kyrsten Sinema's recent decision to become an independent.
Among other advantages, pro-worker voices will have more seats and a larger say on Senate committees dealing with unions, pensions, energy, health and other issues affecting workers' rights, jobs, safety and quality of life.
"What our members did in Georgia benefits workers and their families in every state in the nation," said International President Lonnie R. Stephenson, who retires in January. "I couldn't be prouder of their commitment or more thrilled about their success."
Team IBEW got a shout-out during the campaign's final week in an AFL-CIO blog post headlined "IBEW Goes All-In for Georgia's Runoff."
Beneath a photo of members serving morning biscuits and handing out fliers at Children's Hospital of Atlanta, it read: "The Electrical Workers union is executing a key element of the labor movement's program in Georgia by holding worksite visits focused on the issues and the candidate who will fight for working families."
Mullins hailed the tireless efforts of members across Georgia and beyond, including a Local 134 delegation that Business Manager and International Executive Council member Don Finn brought from Chicago.
On election night, an Associated Press reporter asked Mullins how many votes for Warnock he'd credit to the IBEW's outreach.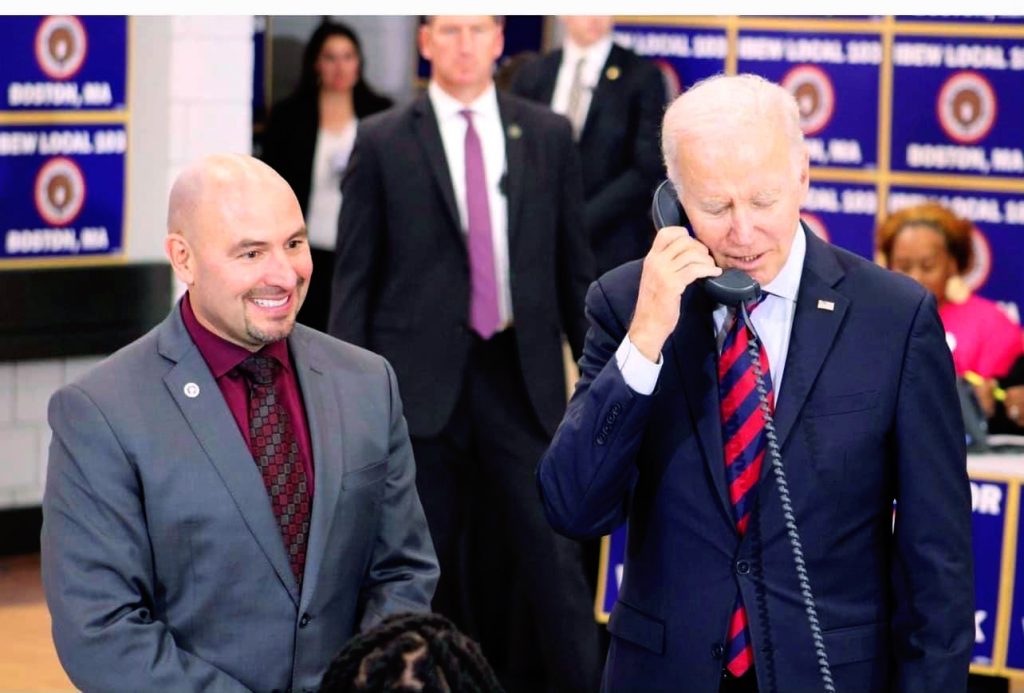 "Thirty," Mullins told him, pausing a beat. "Thirty thousand."
"Our guys killed it across the state — Macon, Savannah, Albany, Athens," he said, emphasizing the domino effect. "In Atlanta, we gave out over 1,000 biscuits and 1,000 fliers at worksites over three days. Those guys go home and talk to their families, and that's now 2,000 people at least, and they talk to friends and extended families and so on."
Canvassers and callers said little or nothing about Walker, focusing instead on Warnock's character and resume — a lifetime social justice activist, a reverend who preaches from the same pulpit that Martin Luther King Jr. did, a senator with a perfect pro-worker, pro-IBEW voting record.
"Everybody in the IBEW is just good people, solid people with good hearts," Mullins said. "I'd tell them: 'This man is dedicated, he has compassion, he truly, genuinely cares about people. And he's voted with us 100%.'"
Biden expounded on that while visiting Local 103. Accompanied by Massachusetts Sens. Ed Markey and Elizabeth Warren, he stressed the difference a single vote makes in today's Senate and the urgency of adding one more to build on historic progress.
"We've created more jobs because of your two senators and because of Senator Warnock than any president has in his first two years. Over 10,500,000 jobs — it even surprises me when I say the numbers," Biden said. "We've got a lot more we're going to get … for the American people."
At an election-night watch party in downtown Atlanta, it was a mix of confidence and nerves for IBEW members and leaders as the results came in. Just before 10:30 p.m., the race was called for their candidate.
"The room erupted so loud that I almost had to put ear plugs in," Mullins said. "You can't imagine how crazy it went. I got chills. It was amazing."